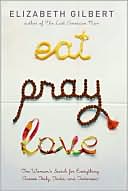 Rating: 4/5 Stars
Pub. Date: February 2006
Publisher: Penguin Group (USA)
Format: Hardcover, 334pp
ISBN:
0670034711
Genre: Non-Fiction
Library Loan
Coming to Theaters: August 13th, 2010
Author Elizabeth Gilbert has been through an emotionally exhausting divorce and the breakup of a tumultuos love affair in a very short time period. After which she realizes, as most women do in relationships, she has lost her own identity and her own way in life. This realization leads her on a year long spiritual journey like no other that she shares with the reader along her way in Eat, Pray, Love. This memoir is written in three sections: Italy (Eat), India (Pray) and finally Indonesia (Love).
With raw emotion and a window into her soul, Elizabeth Gilbert shares with the reader her amazing journey to spiritual self acceptance. I loved the way the book was written and how it felt so emotionally true. My favorite of the three locations was Italy and at the end of Italy I was sure I would have given the book 5 stars. After India, although I still enjoyed the story, I was down to 4.5 and after Indonesia I was down to 4. All three segments of her journey are very good stories and very well written but the story of her in Italy was just so amazing and touching and relatable to me that it would have been very hard to beat honestly. I felt for her, I felt like I understood her and I felt like at times she understood me and parts of my life that are unsatifactory to me. This story makes the reader want to go on their own journey of spiritual enlightenment, at least it did for me. The fact that this is a true story makes it all the better in my eyes.
Favorite Quote: "Stop wearing your wishbone where your backbone ought to be."
I didn't go into much detail in my review because this book was chosen to be the WoWO book club selection for the end of July, so I will be reposting this review along with the WoWO discussion at that time with more details (So Check back!!). Gilbert has another book out called Committed, which is a continuation of her life once she returns home. I believe that I will be reading this book, maybe even if the other girls in the book club are interested we will make it a book club read. Also plan to see the movie, hopefully with some of the WoWO's!
This book fits the following Categories/Challenges for me:
Hogwarts Reading Challenge (Charms)
Truth is Stranger Than Fiction Challenge
Monthly Mixer Mele Challenge
New Authors Challenge
PBT BINGO - Poetry tag
PBT June tag (Travel)