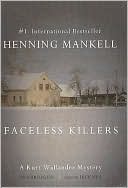 Rating: 2.5/5 Stars
Pub. Date: March 1997
Publisher: New Press, The
Format: Hardcover, 284pp
Series:
Kurt Wallander Series
, #1
ISBN-13:
9781565843417
Library Loan
This book was originally published in Sweden as
Mordare utan ansikte
in 1991 and was translated into English by Stephen T. Murray for this publication.
I obtained this book from the library in order to read it for my Fantasy Thrillers and Horrors Yahoo Book Group.
Kurt Wallander is a severely flawed man - he has an tricky relationship with his ex-wife, a daughter who doesn't want anything to do with him, and an aging a father who is hard to deal with. With all of these personal issues he has to solve the highly volitale case of a brutal murder of an elderly couple in a swedish farmhouse with very few clues.
In this first book of the Kurt Wallander Series we follow Wallander through his daily routines of life and work and get a glimpse of the Swedish way of life. I found these glimpses interesting but I can't seem myself continuing on with the series. I don't know if it was the translation or the Swedish murder mystery that made this book seem too simple and more about the main characters development than solving the actual mystery, it was like made for tv mystery for me. I found that the ending was very anti-climatic and I wished there was a better wrap-up and that the clues found in the beginning of the story actually meant more to the solving of the crime.
This book fits the following challenges/categories for me:
Hogwart's Reading Challenge (Muggle Studies)
Thriller and Suspense Reading Challenge
Monthly Mixer Mele Challenge
New Authors Challenge ** FINISHED CHALLENGE **
Fantasy Thriller and Horror Reading Group