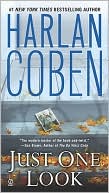 (Read in September)
Rating: 3/5 Stars
Pub. Date: May 2005
Publisher: Penguin Group (USA)
Format: Paperback, 528pp
ISBN: 0451213203
Grace Lawson's life is good one, it hadn't always been but since meeting her husband Jack things have really turned around for her. She and Jack have two beautiful children and a loving and kind husband. One day when an old photograph was placed in with her other photos from a photomat, her life was turned upside down. When her husband saw the photo he pretended to not know the people in the photograph but then takes off without explanation.
After being turned down by the police to help find her missing husband, since it looks like he left on his own, she decides to do some investigating on her own for answers and her husband. What she finds shakes up her entire life to the absolute core. With some help from some friends of her present and past, as well as some strangers that have just come into her life she is able to unravel the story but in doing this she puts herself in grave danger as well.
Harlan Coben is a master at suspense and knows how to pull you into a story with believable action and characters.
This book fits the following Categories/Challenges for me:
Hogwarts Reading Challenge
Thriller and Suspense Challenge
Monthly Mixer Mele Challenge