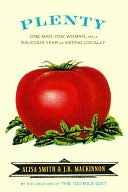 Plenty: One Man, One Woman, and a Racous Year of Eating Locally
Rating: 3/5 Stars
Hardcover: 272 pages
Publisher: Harmony; 1 edition (April 24, 2007)
Language: English
ISBN-10: 030734732X
Genre: Non-Fiction
Received book in Shelfari Book Chat Book Swap
The authors of this book memoir their journey of eating locally (with-in 100 miles radius) for a year. This idea comes into fruition one day when they are in a remote location and only have a few items on hand and can't get to a store. They must feed themselves and their guests on what they can find locally. They fish and forage for mushrooms and veggies from their old garden and come up with a meal that proves you can make something good from seemingly nothing (of course you really need to know how to cook first - and be a little adventurous).
At the first of Spring they start their journey with only eating foods the come from with-in 100 mile radius of their home and it starts out a little bumpy. Sure they can find food, living in the Vancouver area, but it's expensive and again, you must have a creative cooking bone to accomplish this task. Their first meal cost them $128.87. This is when they realized the challenge they were facing. Being able to sustain this lifestyle will be harder then they imagined.
There were alot of good scenes in this book, I felt it honest and interesting. There were parts about the food itself that bored me a bit, but the relationships and the events were great. I really liked how they gave themselves a free pass when they were invited to a neighbors house for dinner (not alienating their friends) and when they travelled. I love the idea also of being able to bring food home from 100-miles of where they travelled to as well. Now, I am not one who would normally consider doing something like this but as soon as I finished Chapter One (March) I was sold on the idea. I started looking at local eating websites and all of a sudden this is something I'd really like to try to do. Living in Southern New Jersey should make things easier for me, right? We have so many farmers markets right near me. Well, Im seriously considering trying it. I think that the ramp of this task would be tremendous but once you got the hang of it (Canning, freezing, etc) it would end up being very rewarding.
This books fits the following Categories/Challenges for me:
Hogwarts Reading Challenge
Truth is Stranger than Fiction Reading Challenge
RYOB Challenge
New Authors Challenge