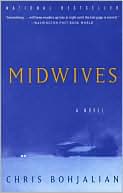 Rating: 3/5 Stars
Publisher: Knopf Doubleday Publishing Group
Format: Trade Paperback, 372pp
Sybil Danforth was a midwife in Vermont in the 1980's. One fateful night she had a birth go horribly wrong and an emergency C section was necessary. Sybil was sure the woman was dead when she began the the procedure but aspects of the evening bring doubt as to what really happened that fateful night. This story follows the trial of Danforth from the night in question through the end of the trial, from the perspective of Cybil's daughter Colleen, a teenager at the time of the trial, now looking back as an adult telling the story of her past.
I enjoyed certain aspects of this book, the idea of the trial and the details of the birth were very interesting to me. Even the story coming from the perspective of the child was a nice take on the story. I however felt there was too much medical detail for me, I felt squeamish in many of the birthing scenes. I also felt that I new most of the story already in the beginning and then the trial rehashed the story with not much unknown details, a few but not much to me. So I got a little bored with the story until the trial's conclusion. I'm glad that I read the story but I hoped for more from Bohjalian.
This is my second book by Chris Bohjalian, the first book i read by him was Before you know kindness. I was absolutely enthralled with that book but the ending left me wanting a different outcome. That said, I still think that the drama in that story was much better than this one. I can't say that I would recommend to anyone but someone interested in Midwifery but I would give the author another try in the future, I see a lot of potential in the complexity of his writing.
As my last read for the month of march, this book fits the following categories/challenges for me:
Hogwart's Reading Challenge

RYOB Challenge

Monthly Mixer Mele Challenge

PBT Bingo (Contemporary Tag)

Buddy Read at The Reading Cove