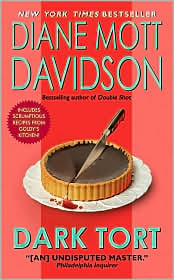 Rating: 2/5 Stars
Goldy is has a new client, she is making breakfast and meeting goodies for a local law firm. One night while Goldy is there to prepare bread for the next morning, she trips over her friend, neighbor and law clerk, Dusty, on her way in the door. Goldy plans to say far away from this one, but can't help but promise Dusty's mother she would help with the investigation.

I enjoy cozy mysteries and that is why I've tried over and over to get into this series. I don't know what it is about Goldy that I just can't grab onto and love. I do know that I get a little bored when the author goes into details regarding the food that is being eaten or prepared that particular moment and time and the background as to why... I think if these details were missing and the food was just mentioned (like other food cozies) I would like it more. I know this is a very popular series so for some people this works.. but it just doesn't for me.

A cute book and an original story, but all in all Goldy misses for me. The food/recipes do sound very yummy though!
This book fits the following challenges/categories for me:
Booktivity November Special: I thank for... Dark Tort .. Yum!
Twelve Days of Christmas PBT Challenge: Food
PBT Nov Tag: Other
Monthly Mixer Mele Challenge (D in December)