Rating: 2/5 Stars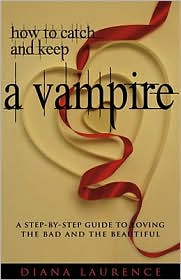 I received this book as an ARC request in early October. I was very excited to start reading this and although it was "cute" it really didn't live up to my expectations.
Diana Laurence writes a self-help book for vampire lovers. The idea of this book is fascinating to me, with all the vampire books, tv shows and movies out there these days - its the right time for a book like this. I however expected something a little more tongue-in-cheek. I felt that Laurence took a more serious approach instead of a quirky approach, which I think would have made this book at success.
Maybe the trouble is it was more written for a teen? Not sure but something was missing for me.
There were a few notable quotes from this book:
"Women just get so sick of being good that they are completely and utterly and downright chomping-at-the-bit ready for a nasty vampire. and when you are ready for nasty, what you need is a bad vampire."
vampire pickup line: "They say a diamond is forever -- I can promise you an eternity."
This book fills the following challenges and groups:
Booktivity November Special: I thank for... not needing to know how to catch and keep a vampire
Booktivity November: Activity
PBT November Tag: Other
Monthly Mixer Mele Challenge (V for vampire in noVember)