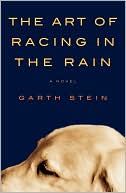 Rating: 5 Stars, Favorite
Enzo, the narrator, is a dog. But not just any dog, he's a wise and intelligent being.
Enzo knows that in his next life he will come back as a human and throughout the book you find out his logical reasoning behind this theory. Enzo tells the story of his relationship with his best friend, Denny, and the drama the ensues in their lives. The one constant in their lives is each other and they are true "Best Friends." Enzo is endearing and loyal and everything you, as a dog lover, know your dog at home next you - is inside. A major reoccurring theme of this book is about destiny and how we may not be able to control every aspect of our lives, but we can control how we react. One way or the other we are the owners of our destiny.
Since reading Marley & Me last year I have stayed away from Dog novels, as they make me sad with the inevitable scene that is in every dog novel. My dog Max is getting up there in years and the thought of his mortality makes me incredibly sad, so my plan is to stay in denial as long as I can. But, This book came highly recommended from other dog lovers who know my fear of the dog novel, so I dove in. From the start of the book I fell in love with Enzo and his loyalty and love for Denny. Their stories made me laugh at times and sad at others, just like any great story should do. On the very first page you know that the inevitable will still come, but Garth Stein has a way of making the inevitable a little more bearable. I still sobbed and cuddled with my dogs for a good half and hour (at least) after reading this book. But I was a different crying than with the other books. This book is in fact very hopeful and sweet and if you are even thinking about reading it - do it, you won't be disappointed.
Favorite Quote "That which we manifest is before us; we are the creators of our own destiny. Be it through intention or ignorance, our successes and our failures have been brought on by none other than ourselves."
This book fits the following Challenges/Categories:
PBT Dec Tag: Other

12 Days of Christmas Challenge Day 4: Animals

Monthly Mixer Mele Challenge: A for Art (A in jAnuary)

Reading Cover Group, Bonus Book