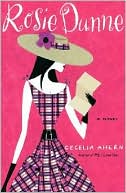 My last book for the month of November.
Rating: 3.5/5 Stars - rounded down to 3
Cecilia Ahern has a way with writing a happy ending.. She takes the absolute longest possible route to find it. Somehow this makes it all the more sweeter when the characters you see go through such turmoil and tragedy, end up being happy and OK with the path's their life took in the end.
Rosie Dunne is the story of the trials and tribulations of Rosie, written in an epistolary format of letters, E-mail and instant messaging chats with all the people in her life over the years. People come and go but her best Friend Alex is the one constant in her life, this relationship is complex and flawed and really wonderful all wrapped up in one.
This book had some tough subject matter for me in the middle but it was worth getting through. Ahern really knows how to write good chick-lit with a twist.
This book fills the following Challenges/Categories for me:
PBT Nov Tag : Other
Twelve Days of Christmas Challenge: Day 2 - Love
Monthly Mixer Mele Challenge - R in novembeR