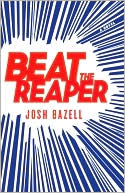 Rating: 5 Stars
Favorite
Dr. Peter Brown, an intern in a Manhattan Hospital has a past that he'd rather keep hidden, that is if he wants to live. When a man from his past recognizes him as "BearClaw" a former hitman for the mob turned witness, Peter must do everything he can to keep who he really is from getting back to some of the people in his past.
Unveiling the story of Pietro "Bearclaw" Brnwa, interwoven with the craziness of a day with Peter Brown making rounds in the hospital; You have sheer writing genius. This book is vulgar, violent and in your face aggressive and all at the same time it's the most unique and refreshing story I've read in a long time, with an Anti-hero you can't help but like. This is a roller coaster ride like no other, with never-ending violence and action.
The final fight scene in this book is so crazy and amazing that it makes you wonder how someone could come up with a scene like this, and many other scenes in the book for that matter. What kind of person is Josh Bazell, the mind behind such violence and grand imagination? He has to be the most interesting person, with a tortured mind I suspect. Would I want to be his friend if I met him? HELL YES!
This is his debut novel, but when his next comes out I will be the first in line to buy it.
This book fills the following categories/challenges for me:
PBT Dec Tag: Other
Monthly Mixer Mele - B in decemBer
Fantasy Thriller Horror Yahoo Group - December Discussion