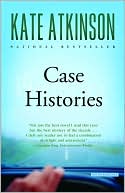 Rating: 2/5 Stars
Three Cases, all being looked into by Private Investigator Jackson Brodie. The book jumps around to be told from different perspectives and this gives an interesting view on the stories.
In the beginning we learn a bit about each of the cases individually and then as the story unfolds you see some overlaps in the story from Jackson's uncovering of the details and meeting with all the clients.
I have been sitting on this review for days because i didn't know what to say about it. I enjoyed the beginning of the book and learning about all the cases but it just fell flat to me. So, this review is more about just stating that I read the book and wasn't wow'd by it. I wish it grabbed me more. I know others who have loved it but it just wasn't for me.
This book fills the following Challenges/Categories for me:


RYOB Challenge


Thriller and Suspense Reading Challenge


PBT Tag: Relationships


Monthly Mixer Mele Challenge


New Authors Challenge