Rating: 4/5 Stars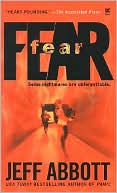 I picked this audio book up on a whim, based on no knowledge of Abbott whatsoever. My library has shelves and shelves of Audio books and I couldn't decide what to listen to next so I started all the way to the left of the stacks at A and picked the first one in the stack. What a nice surprise it was for me to find that I picked up an exciting and complex tale of suspense.
This book brings 3 Post Traumatic Stress Disorder (PTSD) patients together after their therapist asks them for help and then is murdered. They feel a need to find out who killed her and why she was killed and finish what she died for. These 3 people get into the thick of more traumatic events while still trying to face their own fears and move on with their lives. This book was really well written and you never really know who can be trusted nd who cannot, with lots of twists and turns that will keep you excited to read on. There are alot of characters in the book but I think the author does a good job in keeping them clean and separate, never being confused by them.
I absolutely loved the narrators voice, L.J. Ganser. I know I've heard his voice somewhere else before. It's the perfect voice for a handsome leading man character, especially for a suspense novel. I looked him up to see what else he's read and he has quite an audio book listing, which is not surprising because he is really a great narrator. You can find his audiofile site
here
.
I will certainly be reading more from Jeff Abbott and I will be picking up Panic from the library on audio ASAP, where L.J. Ganser is the narrator, so this is a bonus for me.
You can find out more about Jeff Abbot and his books
here
. He has apparently been nominated and won several awards and has a couple of books optioned for film. I think he is definitely one to watch.
This book fills the following categories/challenges for me:
Thriller and Suspense Reading Challenge
PBT Feb Tag: Other
Monthly Mixer Mele Challenge: A in januAry
New Authors Challenge