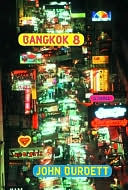 Rating: 1/5 Stars
Pub. Date: June 2003
Publisher: Knopf Doubleday Publishing Group
Format: NOOKbook (eBook)
ISBN: 1400040914
Sonchai Jitpleecheep is a cop in Bangkok, one of the few cops who don't take money or free sex from prostitutes. When is partner, Pichai, dies at a chrime scene with a dead farang (American) marine, the FBI gets involved. Out for revenge for Pichai's death, Sonchai tries to stay one step ahead of the FBI.
For me something was very off in this book, I think it was mostly the fact that there was so much information about sex and prostitutes in Bangkok's red light district that it seemed obsessive. There was a murder mystery intertwined with all the sex and prostitution stories but in the end it all came down to a very strange outcome that completely creeped me out and made me wish I could have the time I spent reading the book back. I want to say more but I don't want to give away plot details in case someone happens to want to read this book which I do not recommend.
This is the first book in the series and I can assure you that I will not read more. I see at Amazon there are many good reviews for this book so it's hit some kind of niche for some readers but not this one.
This book fits the following Challenges:
Hogwarts: Arithmancy
A-Z title : B for Bangkok