My Dear Readers!!! I have not posted in a long while and that thought really disappoints me. My Blog was one of my favorite things to do last year and when November hit, something happened to my blogging and my reading. I can't explain it but I can say I'm sorry! But it's a new year and with a new year brings a new chance at making it work. I will not dwell on the fact that I let a lot of things fall by the wayside at the end of last year, especially my reading. So here I am begging you for forgiveness for not posting in a while and I hope that with the coming year you'll stick with me and continue to read as you previously did.
January is the 1 year anniversary of my face to face book club (the WoWO's) and we will be reading the Hunger Games by Suzanne Collins. So look for that post somewhere around the 23rd of the month.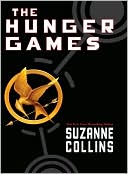 This is my first book read of the year and then I will move on to Bangkok 8 by John Burdett. The Hunger Games so far is amazing and I'm glad that it is my first of the year. We have some fun things planned for the WoWO Meeting this month and I can't wait to show all of you how it turns out.
I'm feeling very positive about this year and I know its going to be a great one! Lots of good book reads and discussions and hopefully a few more giveaways this year.
Oooh I almost forgot! I got a Nook for Christmas and I'm excited to tell you that I love love love it! Now I have to figure out what to do with the 300 books I have on my shelves! Besides reading the ones I really want to read I think I'll be donating a lot of them.
Thanks for hanging in there with me readers!