Rating: 5 / 5 Stars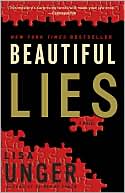 Life is all about the choices we make and our response to the choices that others make. Ridley Jones has had a good life, that is until she saves a boys life and her face is splattered all over the papers and news. Her life is turned upside down when she receives a mysterious note with a picture, taken in the 1970s, of a women who looks eerily a lot like her.
Ridley's life is quickly unveiled as a web of beautiful lies and she must find out the truth, but who does she trust? Her Parents? Her ex-fiance Zack? Her new neighbor Jake? As her life as she knows it is unfolded there is no going back to the life that she once knew - there is only going deeper into the mystery to learn the truth.
I thoroughly enjoyed this story and was so happy to see the end actually saying, "The Beginning..." I cannot wait to read more of Ridley Jones' story and see what her future holds. The book had great character development and some good twists and turns.
Favorite quote: "The universe doesn't like secrets. It conspires to reveal the truth, to lead you to it."
This book fills the following challenges:
PBT Oct Debut

Grammar Rules Challenge #3 Adjective (Beautiful)

Fall Winter Mystery Challenge (resolutions/new begininngs related mystery)