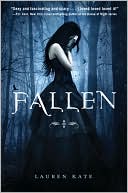 I received a new ARC today in the mail from Delacorte Press: Fallen by Lauren Kate.
The Description on Shelfari is the following:
Seventeen-Year-Old Luce is a new student at Sword & Cross, an unwelcoming boarding/reform school in Savannah, Georgia. Luce's boyfriend died under suspicious circumstances, and now she carries the guilt over his death with her as she navigates the unfriendly halls at Sword & Cross, where every student seems to have an unpleasant—even evil—history. It's only when she sees Daniel, a gorgeous fellow student, that Luce feels there's a reason to be here—though she doesn't know what it is. And Daniel's frosty cold demeanor toward her? It's really a protective device that he's used again . . . and again. For Daniel is a fallen angel, doomed to fall in love with the same girl every 17 years . . . and watch her die. And Luce is a fellow immortal, cursed to be reincarnated again and again as a mortal girl who has no idea of who she really is.
This looks promising to me and it looks like it's going to be a series! This title is set to be released on December 8, 2009. To learn more about this book go to
www.fallenbooks.com
When I read the book, which I have a new rule for myself of reading ARC's and reviewing them within 60 days of receiving them, I will post the review here on my blog.. keep an eye out for it!