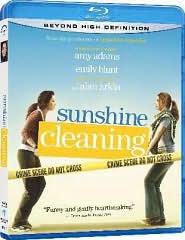 Amy Adams plays a single mother, Rose, with a history of bad life choices who was also responsible for her little sister Norah, played by Emily Blunt, after her mother killed herself when they were little girls. Add to this a son who acts out and needs special attention and a father, played by Alan Arkin, who comes up with some crazy schemes to make money and you have yourself an entertaining dark comedy.
Rose has a turning point her life when she finds herself cleaning houses for her high school friends. She decides that in order to make something of her life that she'll start a business cleaning up after crime scenes, which is very lucrative. Rose enlists her sister Norah , who was fired from her waitressing job to help with the business and they begin a journey that they never expected.
I really liked the character development of this movie and thought it was really well done.